13 Awesome SlideShare Decks That Will Help You Sell Smarter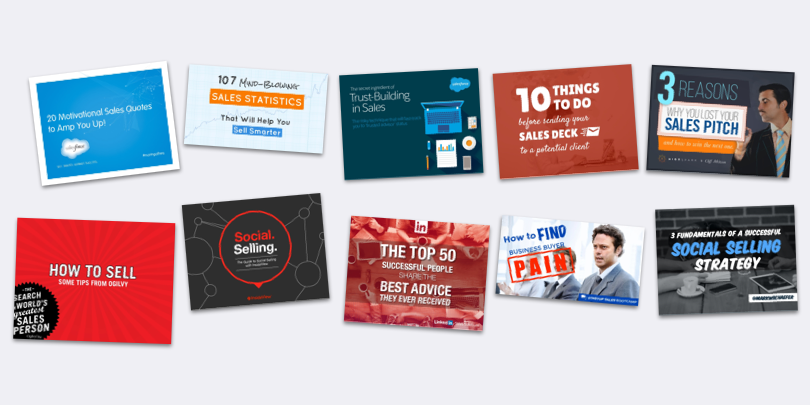 Do you know what's the one thing you need to do to skyrocket your sales?
You need to be willing to invest time & energy into constantly developing your skills.
Improving your sales techniques, amassing new knowledge and discovering and implementing new ideas. The rest is just diligent work.
And today we decided to help you achieve it with 13 SlideShare presentations, filled with thought-provoking, practical and actionable advice that will help you sell more.
Intrigued? Then block sometime in your day then and… start sliding.
How to Stop Your Prospects From Going Dark: Conversational Techniques to Drive Your Deals Forward
[slideshare id=45674807&doc=startupsalesslideshare-150310145539-conversion-gate01&w=690]
Have you ever gotten a prospect excited about a product you're selling, only to have them go dark later? If this has ever happened to you then I'm sure you'd love to know what you can do to stop this happening, and the simple process outlined in this presentation is your answer.
Favorite quote:
"Only pitch your solution, benefit and features when you know the EXACT pain you're solving for. You'd much rather buy something that appears to be made for you, right? That's the idea."
How to Win That Next Sales Presentation
[slideshare id=56357894&doc=whyyoulostthatsalespitch-151222040755&w=690]
When you sit down and think about it, how much is a
successful sales pitch
potentially worth you to and your company? A lot right? But how much do you actually invest in it? Most people think of the actual pitch as a tiny piece of the puzzle or an afterthought.
Even if you have the best product or plan, if you can't communicate it well you won't make the sale. Learn the top 3 deadly mistakes to avoid and make sure you close that next big deal.
Favorite quote:
"Decisions are made on feelings about facts not the facts themselves."
107 Mind-Blowing Sales Stats To Help You Sell Smarter
[slideshare id=52740634&doc=107salesstatsslideshare3-150914064439-lva1-app6892&w=690]
You know, stats aren't just a collection of intriguing numbers.
They can show you where your strategy falls short and what areas of your work you should improve.
Just take those 2 statistics from this slide deck:
44% of people give up after one follow up.
80% of sales require five follow ups.
Now, if you've been dropping prospects because they didn't reply to your follow up, the above might provide some food for thought.
Flick through this presentation to discover more insights about follow up, lead nurturing, closing, best practices for cold emailing, referrals or social selling.
How to Find Business Buyer Pain Points
[slideshare id=50472824&doc=howtofindbusinessbuyerpainpoints-150713160335-lva1-app6892&w=690]
The majority of your prospects are numb to their own pain. You have to make them feel the pain first, before you can even think of closing them -b ut finding their pain is easier said than done.
Juliana Crispo from the excellent Startup Sales Bootcamp guides you through finding your prospects pain using strategic questioning. There's a worksheet included as well to help you implement this in your own sales process.
Favorite quote:
"You're asking questions to put them in a future state to make them feel the painful consequences of doing nothing. Just having them talk about that future state hurts, and so the prospect will be more aware and motivated to change it."
50 of the Worlds Most Successful People Share the Best Advice They Ever Received
[slideshare id=35582785&doc=50successfulpeoplesharethebestadvicetheyeverreceivedfinal-140606165344-phpapp01&w=690]
Last year, Linkedin invited 50 of the world's most successful people to share their best advice to young sales professionals.
But don't get dissuaded by this SlideShare's target audience. Even if you've been selling for a while, you'll still find plenty of great nuggets of advice there.
Example:
"Simplicity and common sense should characterize planning and strategic direction" – Ingvar Kamprad, founder of IKEA
How to Sell: Tips on Selling from Ogilvy
[slideshare id=3650506&doc=5-2slideshow-100406130809-phpapp02&w=690]
It's undeniable, David Ogilvy was one of the most accomplished advertisers of all time. But did you know that he started out as a door-to-door salesman? This presentation shares some of his sales wisdom. Our favorite quote:
"You can't bore people into buying your products. You can only interest them in buying it."
The Guide to Social Selling by InsideView
[slideshare id=38989115&doc=iveffectivesocialsellingfinal-140911154626-phpapp02&w=690]
The days of selling to complete strangers are over.
Today's buyers expect salespeople to know about them and understand their needs before engaging. It's no longer who you know that makes the sale but what you know about who you know.
Some call it Sales 2.0. Others, social selling.
And if you're interested in how it works, flick through this great introduction to the topic.
3 Fundamentals of a Successful Social Selling Strategy
[slideshare id=37514827&doc=3-fundamentals-successful-social-selling-strategy-140730165201-phpapp01&w=690]
Once you learn the fundamentals of social selling, it's time you discover how to put this strategy in practice. In this SlideShare, Mark Schaeffer outlines 3 strategies to making social selling work for you.
10 Things to Do Before Emailing Your Sales Deck To A Potential Client
[slideshare id=45063931&doc=10thingstodotoemaildecksbeforesending-150224043129-conversion-gate01&w=690]
Sales decks
have become an invaluable sales tool. They help generate leads, position a product or service on the market, build up a case for why a prospect should get in touch with a company and help establish trust and rapport.
And if you want to increase the effectiveness of your sales decks, check out this SlideShare presentation outlining a way to using sales decks to increase their effectiveness.
The New Rules of Selling
[slideshare id=38281832&doc=newrulesofselling-140823085240-phpapp02&w=690]
And while we're on the topic of new sales strategies, check out this presentation by David Meerman Scott (the father of Inbound Marketing, Newsjacking and many other strategies) in which he outlines the rules for agile and real-time sales.
Best quote:
"We live in the era of A BUYING PROCESS CONTROLLED BY CONSUMERS, not a sales situation stacked against us."
How to Write Emails People WANT to Respond to
[slideshare id=28850072&doc=how-to-write-emails-people-want-to-respond-to-131203110213-phpapp01&w=690]
Think what you like but email is still the key business communication tool. Social media, chat or messaging may be reshaping project communication but when it comes to sales, email is still the prevailing tool we use.
And if you wonder how to write emails that prospects will read and want to act on, Hubspot has the answer. This presentation outlines a 5-step formula for writing engaging emails, from preparation to writing the closing signature. A must see presentation for anyone actively reaching out to prospects.
If you're looking for more here, definitely check out our 100+ sales email templates.
Trust Building in Sales: The risky technique that will fast-track you to trusted advisor status
[slideshare id=53150018&doc=trustbuildinginsales-150924114957-lva1-app6891&w=690]
Jeffrey Gitomer, one of my favorite sales writers once said:
"If they like you, and they believe you, and they have confidence in you, and they trust you – then they may buy from you. "
What's more, according to the data from this presentation, reps who are consistently trusted by clients and prospects:
Close more deals,
Spend less time chasing new business, and
Create more opportunities.
If you think you need some advice on becoming a trusted advisor for your prospects, check this presentation out.
20 Motivational Sales Quotes to Amp You Up!
[slideshare id=23199765&doc=salesforcemotivationalsalesquotes-130619105824-phpapp02&w=690]
And finally, if you're looking for some motivation to give your best, check out this presentation by Salesforce.
Favorite quote:
"Obstacles can't stop you. Problems can't stop you. Most of all, other people can't stop you. Only you can stop you."