This is How to Get Salespeople to Actually Use Your Sales Content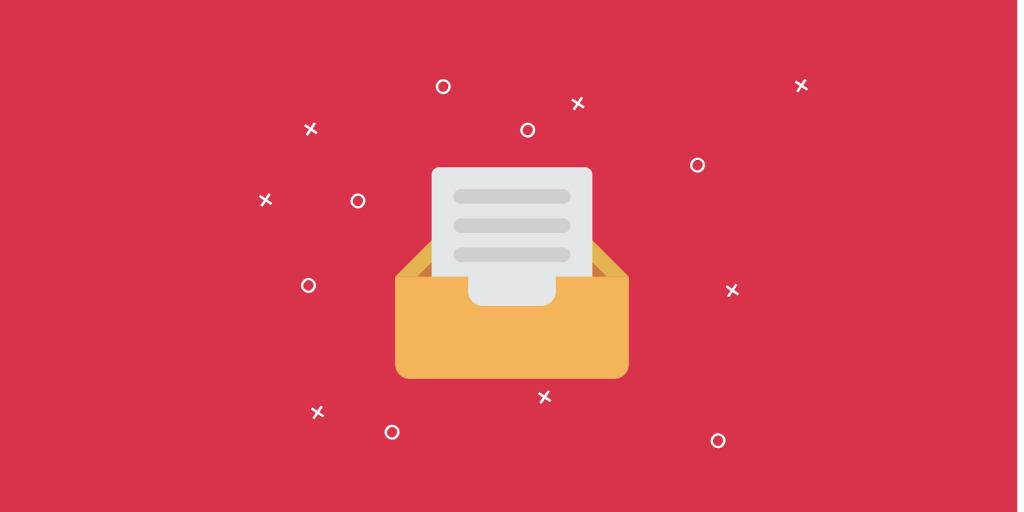 As a product marketer, I'm sure you're always looking for ways to get your sales team to use your sales enablement content.
(And I've recently written a couple of different posts to help you build an effective sales content library and unlock strategies to track content adoption among sales teams.)
But even if you do everything right, you may still find your sales team slow to adopt.
And that's because salespeople often don't know how or when actually to use the content.
Luckily, this post gives you everything you need to change that.
Here are 5 ways to better educate the sales team on your content to boost adoption.
Intrigued? Then let's get right to it.
BONUS: Want to get more salespeople to use your content? Download this weekly content email template that will help you educate them about any new assets you publish.
Get it now >>
#1. Join Sales Team Meetings to Introduce New Content
I'm sure you know that good cross-functional collaboration can make or break your success as a product marketer.
You might be thinking of hosting a weekly meeting, but in a quota-driven sales environment, time is money. Salespeople want fewer meetings, packed with more information.
And so, your best option is to join the sales team's weekly meeting to introduce new content.
In most organizations, sales will meet as a group on a weekly basis to talk through strategy and report on progress toward team quotas (with a small window for guest speakers).
That means you have the entire team as your audience already talking about ways to drive more business.
Sounds like a great opportunity to share the impact of using content with customers, right?
 Here's how to make the most of your time in front of the sales team:
Keep it high-level. No need to get into the weeds on too many specifics of the content. Instead, focus on the data most likely to help the team close a deal. You shouldn't ask for more than 10 minutes in the meeting to get your information out there.
Tell them where (and when) to plug in content during the customer journey. You know that different content types are more appropriate for different stages of the customer journey, but your sales partners likely do not. That's why you should explicitly set the stage for where and when the new content makes the most sense for customers.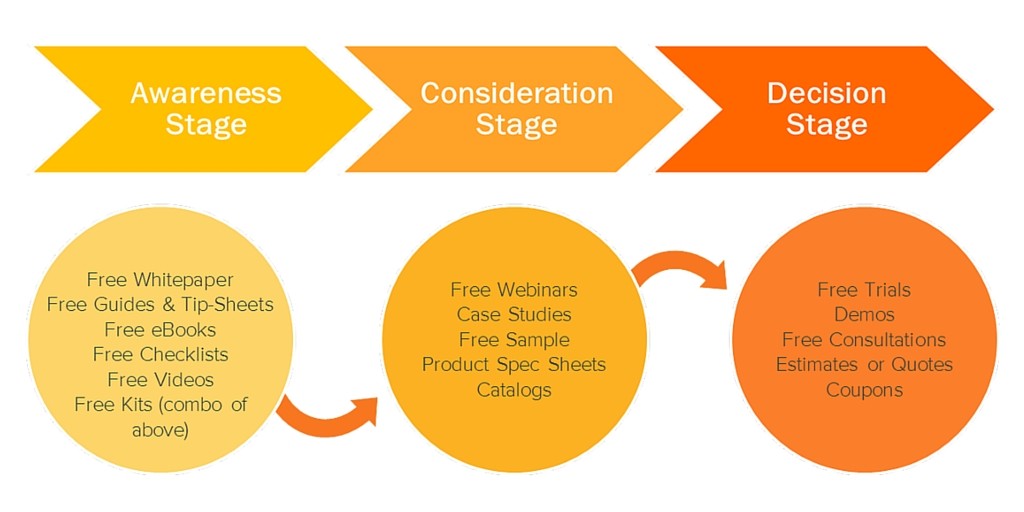 Host office hours afterward for a deeper dive. For the sales reps looking to get more information, host an "office hours" collaborative work session directly following the meeting. That way, the information is fresh, and you're not pulling them away from the phones later on.
#2. Create a Weekly Newsletter Sharing Most Popular Content from the Week
If you're using a good sales enablement platform, it's likely that you'll be able to quickly pull a report on the content with the most engagement from the previous week.
Here's an example from our team dashboard at Attach: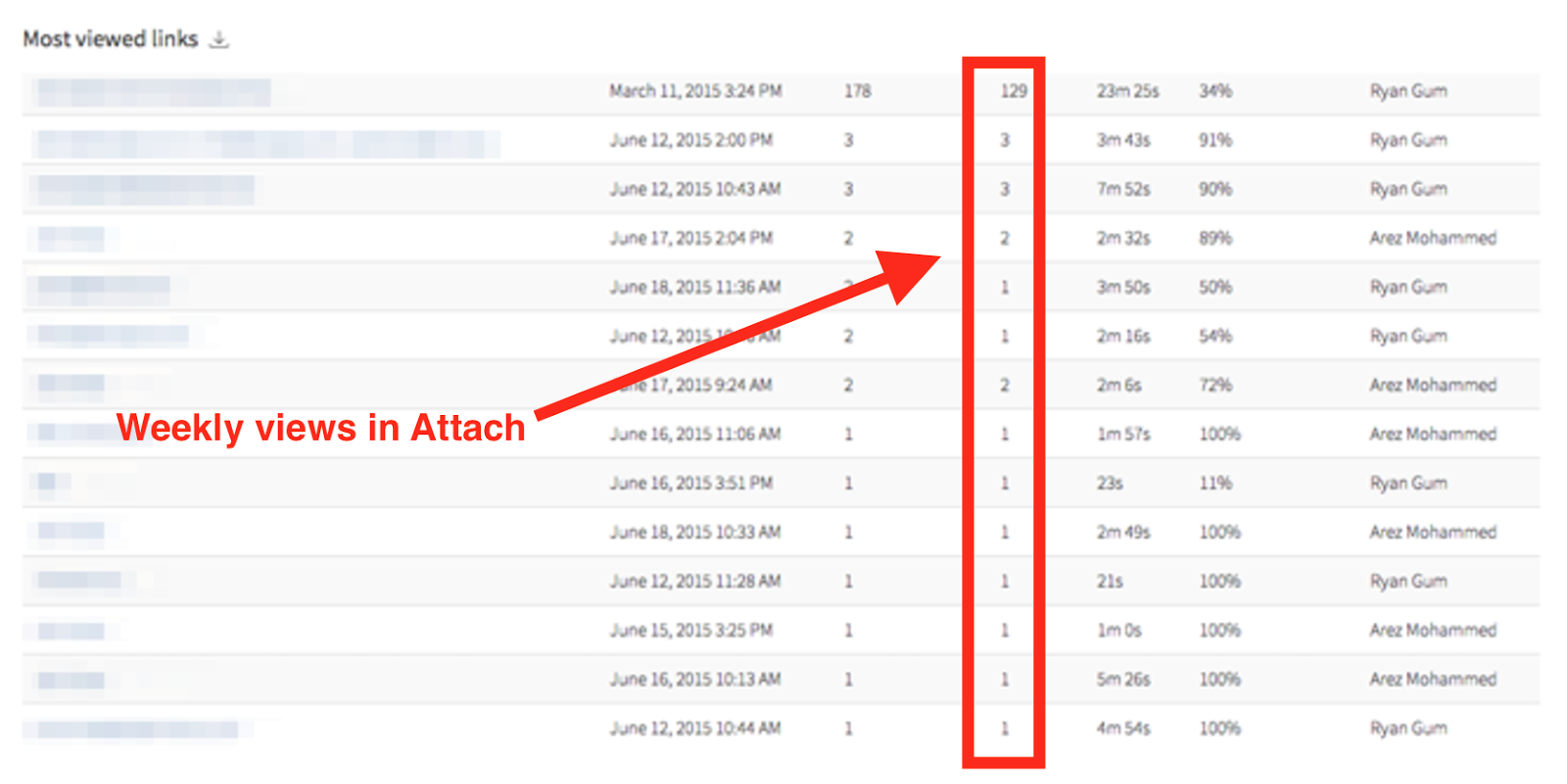 Now you can take that data to create a short weekly newsletter that shares the top content of the week.
Be sure to include the following in your email:
An overview of ideas from the content. What are the major concepts shared in the content? This overview should be the same depth of information you'd share in that weekly team meeting.
A visual representation of the data. 65 percent of people learn more from visuals, so including a chart or graph can dramatically improve your open rate.
Any success stories from the sales floor. If a sales rep closed a deal after sharing a certain piece of content, be sure to include that in the email as well. Those stories could give the rest of the team ideas on how to use the content in their own books.
BONUS: Want to get more salespeople to use your content? Download this weekly content email template that will help you educate them about any new assets you publish. Get it now >>
#3. Segment Your Sales Enablement Platform by Stages of the Customer Journey
Like I mentioned earlier, your sales partners probably don't know what content works best at each stage of the customer journey.
And while telling them in the meeting can help, your best bet for increasing adoption is to actually divide your content by the stages of the customer journey in your sales enablement platform.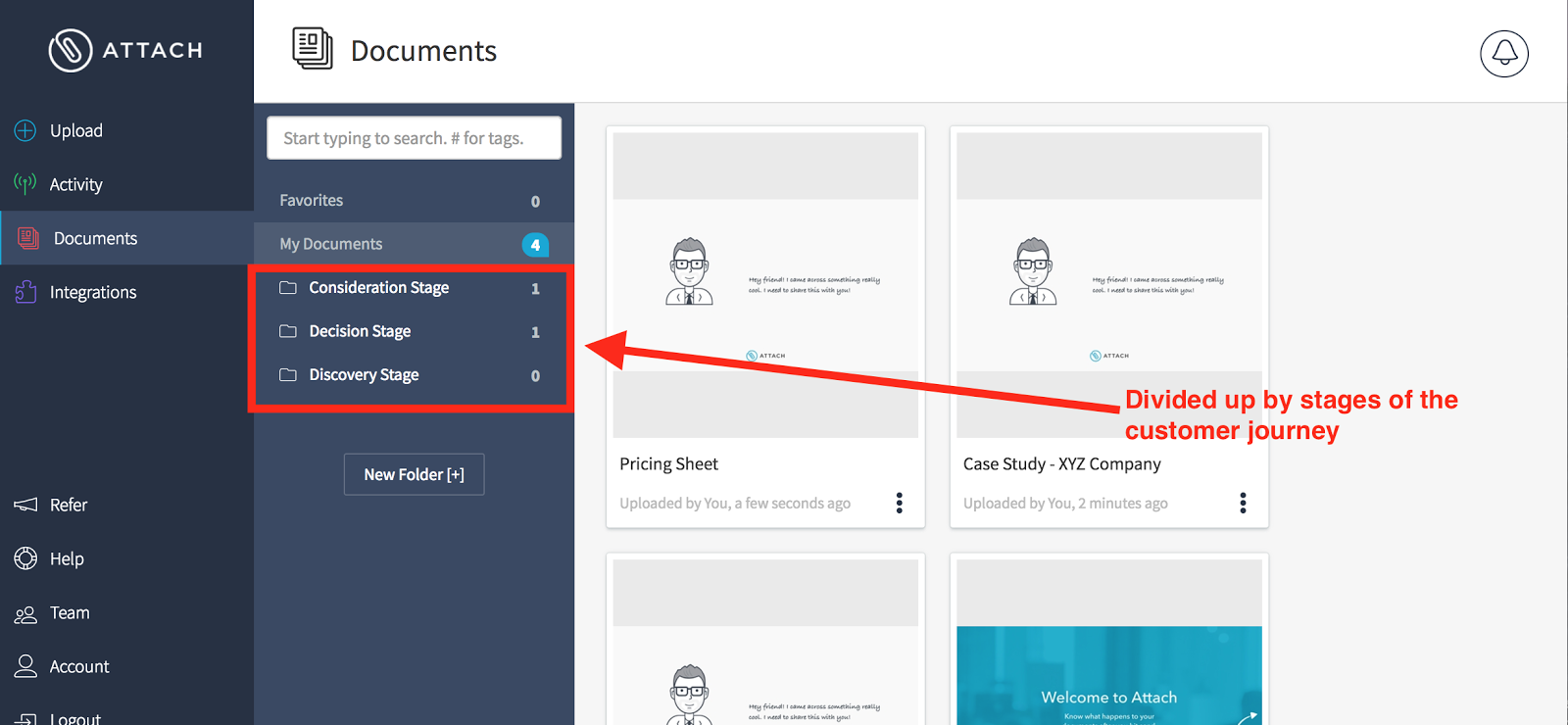 That way, once the sales team knows content can actually help them close more deals, finding the right content takes no more than a couple of minutes.
#4. Leverage Your Top Adopters as Content Advocates
Picture the sales team as a lead you want to convert to a user of your solution (a.k.a. your content).
They've already gone through the "awareness stage" – they know they need something to help them close more deals.
What type of content would you send to get them to convert and become a customer?
Well, a case study, of course.
According to Ecolo Media, case studies are the third most influential marketing asset.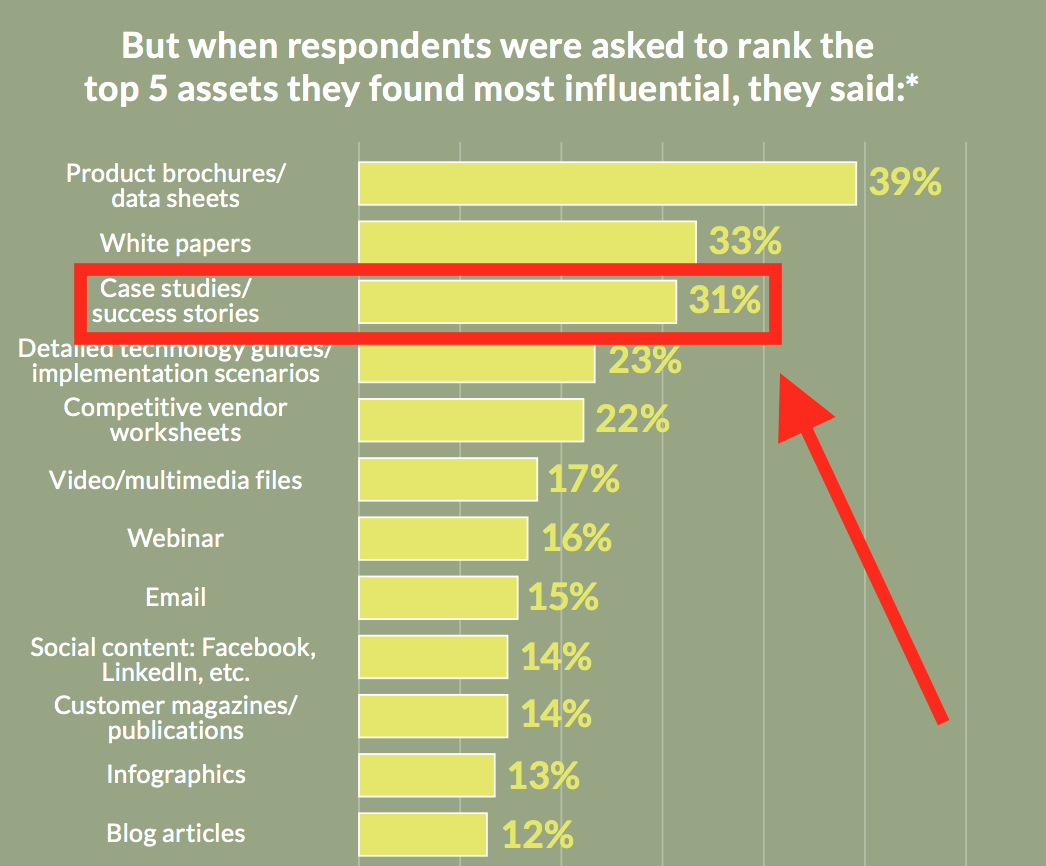 So of course, if case studies work for clients, they should work for on your sales team as well.
Like any good case study, you'll want to find a "customer" who knows a lot about the service you offer and has found tremendous success using it.
That means continuously talking with salespeople (and leadership) to identify when "big wins" happen and then digging in to find out how your content contributed to that success.
And then taking those success stories and broadcasting them out to the rest of the team. In addition to the weekly newsletter, here are a few recommendations for sharing your content case studies:
Co-host an internal webinar. A quick, 15-20 minute webinar co-hosted by you and your internal champion to share a deep-dive into how your content contributed to closing a big deal.
Have them share content on your behalf. Reps may be more likely to open and read an email from a successful teammate, so ask your advocate to send out some content for you.
Ask them to make an introduction to the team. Have your champion introduce you with a bit about their big win at the next team meeting.
#5. Talk to Sales Leadership About Where Reps Need Extra Help (Then Share the Right Content to Fill the Gaps)
Often, the best way to get the attention of sales is to come up big in a time of need.
If your content can help bridge a noticeable gap in the sales team's ability to convert customers, you'll be turning heads of salespeople (and their managers) in no time.
Here's an example: let's say the sales team has found there's a considerable dropoff in conversions when pricing gets introduced.
Reps are having a tough time closing deals, with a big percentage of leads saying they "need to do more research on prices before committing."
And so, you step in with a pricing sheet that shows competitor pricing side-by-side with your own, including a full feature set.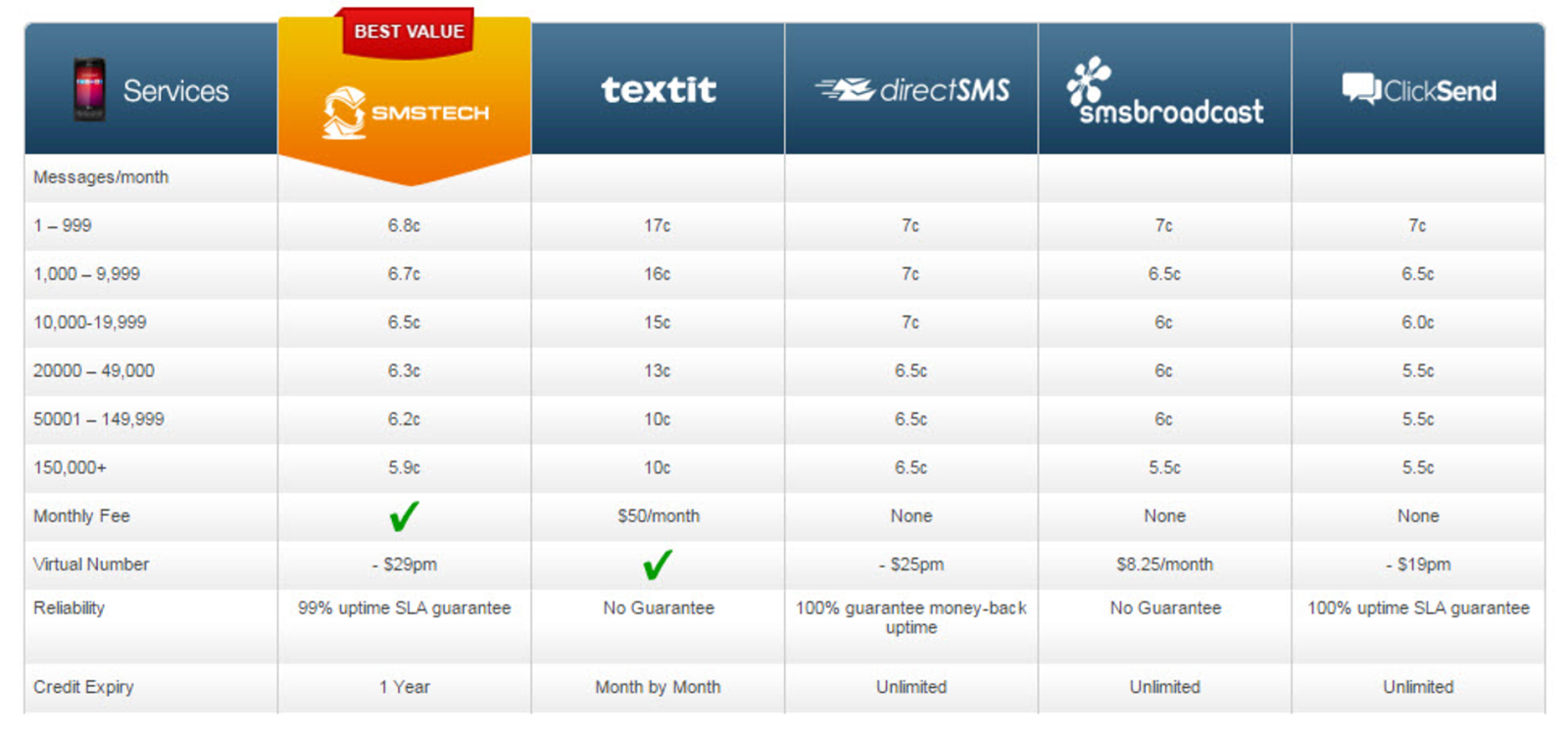 That pricing sheet helps customers consolidate their research and helps reps close more deals.
And all of a sudden, the sales team is paying a lot more attention to the other content you create, too.
Now, if you're wondering:
How do I actually figure out where the sales team has gaps?
Talk to the sales leadership team. Managers want to do anything they can to help their reps sell more.
Take the initiative and ask managers where the team is struggling and could use some extra support, then either share existing content or create new material based on those needs.
As a bonus: ask the manager if they will send out the content on your behalf (reps are more likely to read it that way).
Closing Thoughts
Getting your sales partners to adopt your content is no easy task. But with these 5 strategies for approaching education, you'll see more reps leveraging your material in no time.
BONUS: Want to get more salespeople to use your content? Download this weekly content email template that will help you educate them about any new assets you publish. Get it now >>