Case Study Interview with:
Jason Dainter
Head of Brand Relations at Universal Avenue
Universal Avenue is an on-demand sales force that helps brands across the world scale their customer acquisition. We're working with both early stage startups, but also larger brands such as iZettle, Shopify & Spotify Business to name a few.
Our focus is helping brands that wish to target physical venues, particularly small to medium sized venues such as restaurants, retail stores, hotels and bars. We curate teams of on-demand sales people, then deploy them to represent brands on-scale in markets across the world, empowered by a 'digital briefcase' they carry with them, our mobile app.
"Attach has streamlined our sales process. I find it insanely helpful, on a daily basis."
The Challenge
How do you work?
My role within Universal Avenue is to manage the relationships, both new and existing, with the brands that we work with.
During my day-to-day work, a lot of great brands get in contact with us who want to know more about what we do. It becomes necessary to give them a brief overview of who we work with, how we can help best, and what kind of brands are most suitable. The best way to do this is via a presentation, but sending files back and forth (often when on the move on mobile) is time-consuming, creates versioning issues and is not very streamlined.
Similarly, aside from wanting to be able to present information via a URL, it's very helpful for us to get valuable data back on if those presentations have been opened, when, how (which slides?) and by whom (often decision makers at larger organisations can be someone different to the person we are in contact with).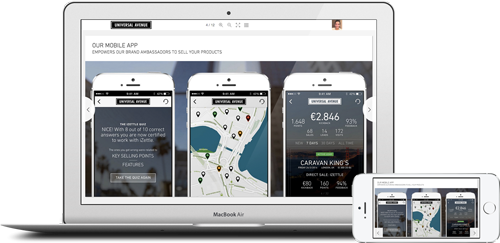 Attach helps solve all these problems by giving us one simple link that tells us when someone views our presentations and collects important contact details about that person. It gives us a useful email notification trigger when this happens, and can often prompt a follow up call or email which gives the customer a great experience, and helps us close more of the right ones.
You can see our brand presentation for yourself here: https://universalavenue.attach.io/m1aTrdDo
The Solution
How do you use Attach?
I use Attach within the first email with inbound prospects to give them the option to view a presentation about Universal Avenue. Not only is this nice and visual (and works well on mobile) it helps me to avoid putting too much detail into those initial emails, but still providing more information if wanted.
At this early stage I keep the more detailed mechanics about how we help Brands in that presentation only, and away from email text. The reason for this is, when a prospect does decide to view the presentation, it gives me a useful trigger (along with email notification) that that Brand is interested in knowing more. It also arms me with helpful information before an early call to know how much 'homework' the brand has done on us, how much I need to explain from scratch vs jumping into more advanced areas.
Recently, Attach helped me identify a brand new lead that I hadn't even been in contact with before. I found out that someone whom I was in contact with had forwarded the Attach link onto them. If we did this with a traditional email attachment, this lead would have been lost."
Often I find one of the first questions I ask when I have that initial call is 'So, how much information do you know about us already?' and if they say 'quite a lot, I saw your presentation' (which I already know!), then I know I can skip some of the higher level areas and move into more relevant discussions.
Sometimes Brands open presentations instantly when they are sent, (showing me a good indication of how keen they are to work with us), but sometimes, Brands can take weeks to open the presentation (especially larger companies with super busy CEO's!). For the latter, the email alert Attach prompt me with gives me a great trigger to engage with the brand again, either following up with an email or calling them to see if they had any questions from the presentation.
The Results
How has Attach helped you?
Using Attach has improved our sales productivity in a few ways:
Identify which prospects we should follow up with and what day or time of day is best
Gives us helpful background information before early calls to establish how much the brand knows (determining how basic/advanced to make the initial call)
Identify # of times a prospect opens a presentation, indicating their interest level
Allowing us to keep initial emails short, punchy and simple whilst giving the option to read more within a click, helping to shorten the sales cycle
Identify new stakeholders within existing prospects
Generate new leads