10 Chrome Extensions For The Hyper-Productive SDR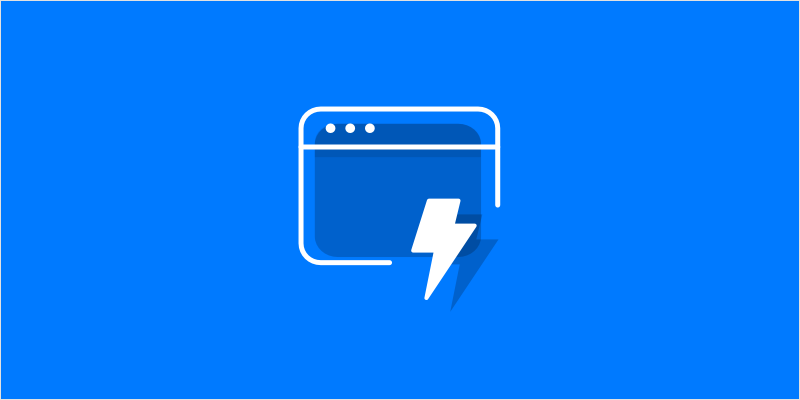 As a Sales Development Rep (SDR) your main job is to generate lists of potential leads, qualify which of those are worthwhile and then enrich those lists with more information so that closers can spend their time closing deals. As sales becomes increasingly more digitized, more tools are available to speed up the lead generation process but expectations and quotas are also rising.
Each of these tools addresses a slightly different part of the lead generation process. When used together, they are very powerful. But even switching between these interfaces can become a point of inefficiency when most of your day is spent spread across multiple tools. Chrome extensions are a great way increase productivity by centralizing everything right in your browser.
Here are 10 extensions to help you be super productive by bridging the gaps between tools.
When working in Gmail, having to click away to look for who you should be sending the email to takes up time and decreases productivity. Clearbit Connect is a lightweight chrome extension that lets you look up contact information while still working within Gmail.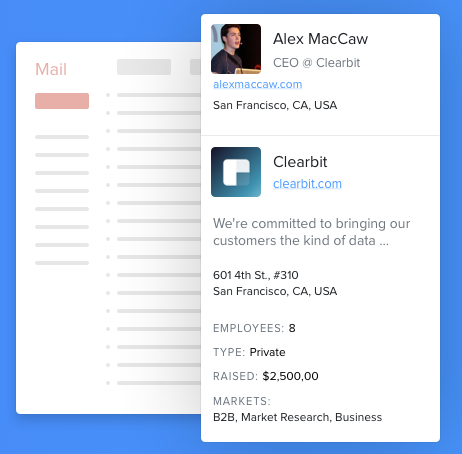 Clearbit Connect is a product of Clearbit, which helps discover and enrich new leads and prospect leads at given companies. Connect works directly from your Gmail compose window to find a contact (and all the information Clearbit knows about them) based on company and role so that you can send your email to the right person without leaving your window.
When generating new leads, it's a nightmare to switch from website, to social media, to Google search trying to find out more about a potential contact. Pipetop provides an all-in-one tool that simplifies sales research by letting you search directly from their interface. They provide 20+ filtering options to help hyper-target your searches and then integrate seamlessly into your Customer Relationship Management (CRM) system.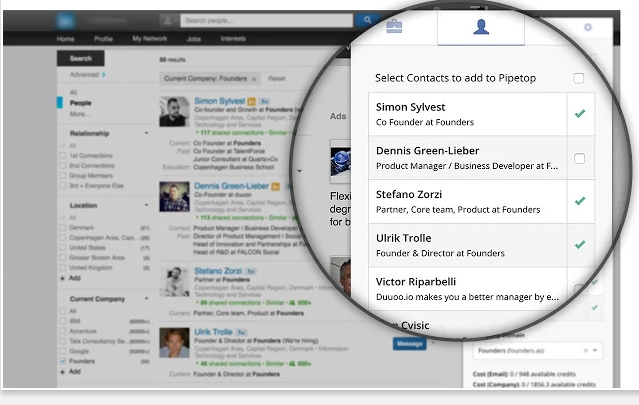 The Chrome extension, Pipetop Prospector, takes the power of Pipetop on the road while you're browsing interesting connections or companies on the web. With a click of a button directly through the browser, you can find the contact information for the potential lead you are viewing that is then sent directly to Pipetop for later analysis.
If you email documents to prospects and you want to know who reads them, what they read and when – there's no easier way than with our very own Chrome Extension.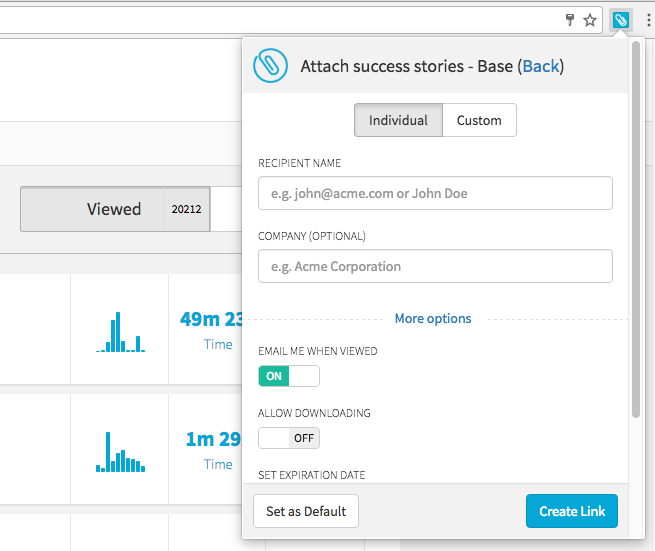 Now you can add trackable Attach links to your emails right within the Gmail compose window or your LinkedIn InMails. The analytics it gives you helps you identify hot prospects, generate new leads, and strike while the iron is hot. Did we mention it's free? Signing up for an Attach account is a no-brainer.
4. Reach
It's easy to get lost in the day-to-day of doing research and sending so many emails that you start to forget your end-goal. Reach helps keep your monthly target at the front of your mind by showing you your daily progress each time you open up a new tab.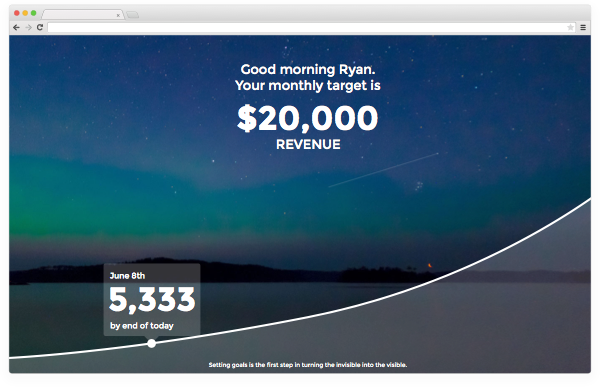 Reach works by replacing your New Tab with a trajectory of your progression toward your monthly goal. An inspirational quote keeps you motivated to move forward. Perfect for SDRs with monthly targets or quotas to 'reach' for.
Similar to Pipetop, Unomy is a powerful platform that automatically feeds new prospects into your pipeline based on specifications, enriches these leads and then integrates them with your Salesforce CRM. This ensures that you are getting data as soon as you get a new lead so that you can qualify and pass them along to the closers faster.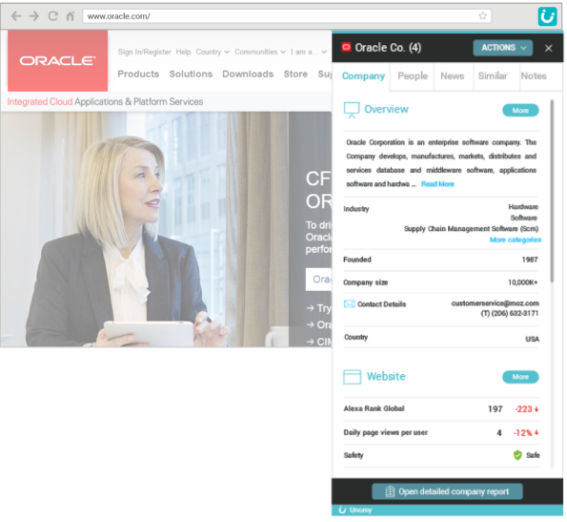 What makes Unomy different is that the Chrome extension not only allows you to learn about interesting companies and employees without leaving the webpage, but it also extends your reach to other competitors in that market. To generate even more leads, you can import similar companies or a list of companies from the webpage back into the Unomy app for further insights and analysis.
Sending emails and follow-ups with potential leads takes up almost as much time as the initial lead generation itself. With LeadFuze, all of that is automated for you.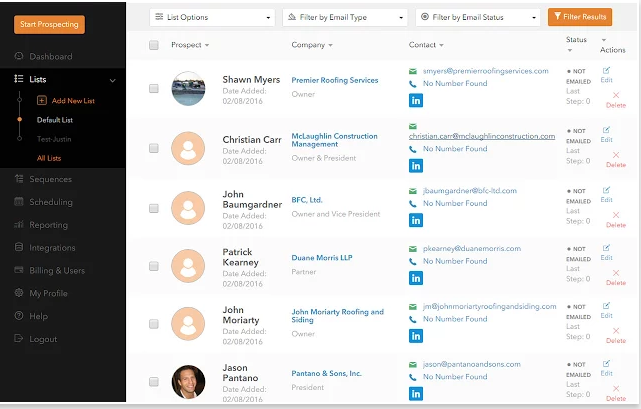 LeadFuze skips the friction of an extra app and only offers a Chrome extension as its product. This tool lets you "put lead generation on autopilot" by generating a list of targeted prospects based on filters that you pre-set. LeadFuze then sends out automated emails and continues with follow-ups to every generated lead, so that you can focus on moving qualified leads through the pipeline.
Generating leads is often one feature of the larger prospecting platforms which means there's usually multiple steps before data gets imported into your CRM for analysis. To reduce that friction, data quality platform RingLead developed a Chrome extension that specifically imports prospects right into your CRM.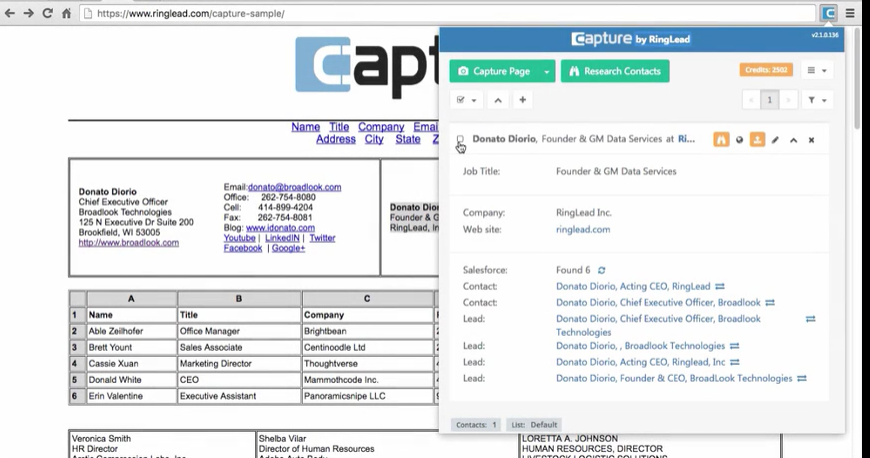 Capture extracts information on prospects from any web page, search result or social network with the click of a button. This eliminates the need for time spent scouring pages for information and manual data entry. These contacts are then directly exported into your CRM with an easy one-click integration. Note: Powered by Clearbit
LinkedIn is not always the best way to reach out to potential leads. Even when you do collect data from their other social media networks, you still need a way to manage this information.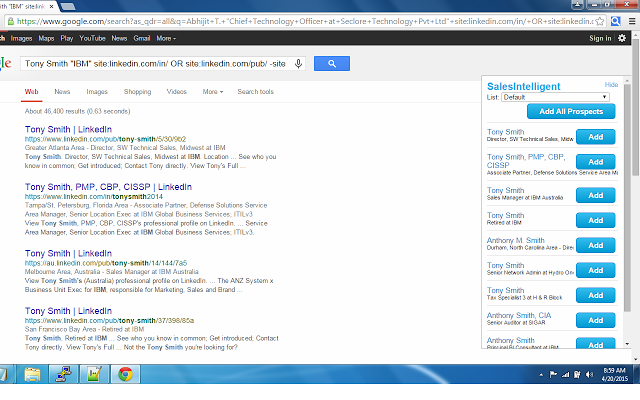 SalesIntelligent simplifies this entire process by taking your LinkedIn prospects and searching social networks for their contact information. It then imports this information directly to your CRM for easier management.
After you find a new lead, you still need to use a separate email or messaging service to reach out to them. With the help of Ecquire, you can centralize everything right into your CRM.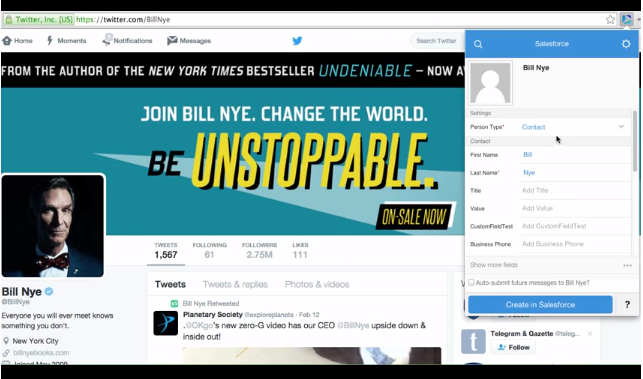 Ecquire sends new leads from your browser directly to your CRM and saves any messages so that they're all in one place. This Chrome extension also allows you to access any of your Cloud services from the browser, bridging the gap between all of your Cloud applications and your webpage.
The timing of your email can determine whether or not it gets buried in the inbox, but you're not always available to send your email at the right time.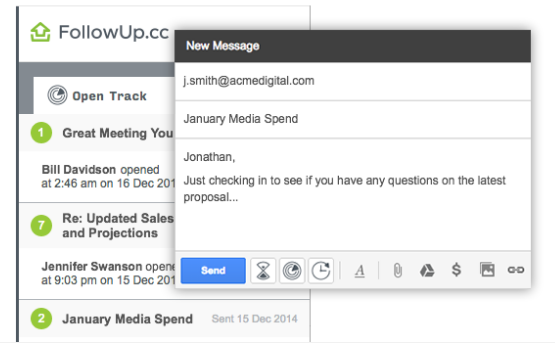 FollowUp.cc syncs with your Gmail account and lets you schedule emails to be sent in the future. You can also track when emails are opened, set follow-up email reminders and manage Salesforce contacts while still in Gmail. This way, you'll always be at the top of your contact's inbox, without having to wake up at 6am every morning to send the email yourself.
These are ten of our favorite Chrome extensions that can help make the lead generation process as efficient and frictionless as possible. We've also published a list of 100 tools to use at each stage of the sales process that you can check out for more suggestions of great ways to power your entire sales team.
Lisa Zheng is a writer, coffee enthusiast and Yale grad. She spent college doing research in labs, and now enjoys doing research on writing, sales and marketing.