This is How To Use Stock Photos If You Want to Add Life To Your Proposals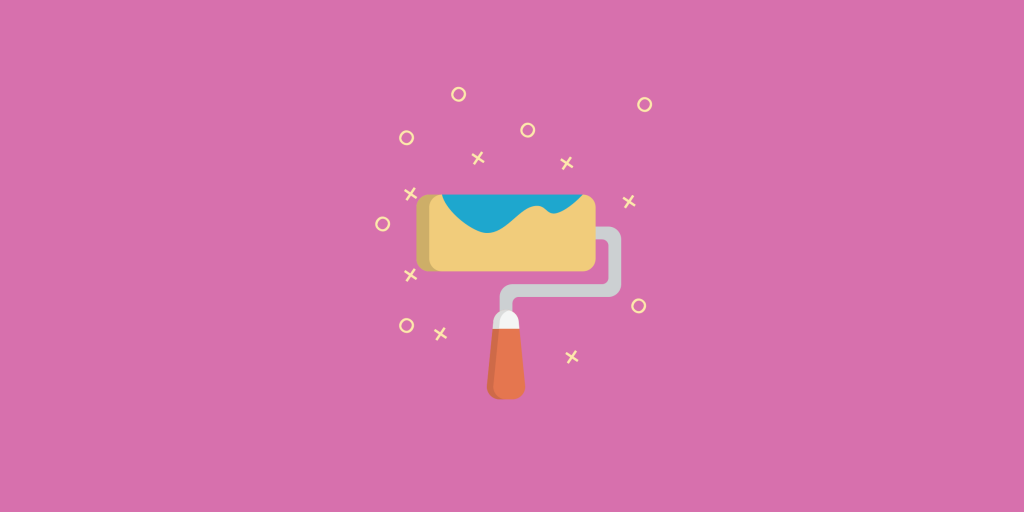 I'm sure you know this already: stock photos can help you make proposals (or any other sales documents, at that) more engaging and pleasing to view.
But unfortunately, to achieve this, you need to do a bit more than just paste a picture on a page.
Sorry.
Luckily for you, in this post, I decided to show you exactly how you could use stock photos to add life to your sales proposals.
I'll show you how to edit, and use stock photos, so they no longer look awkward but help you convey your message to prospects much faster.
Intrigued? Then let's take it from the top.
BONUS: Wondering where to get stock images from? Check out our favorite 10 website to find the best stock photos on the Internet. Download the list here >>
Why You (Really) Should Include Images in Sales Proposals
For one, because they help you cut down on your proposal's length.
I'm sure you've heard a lot about what makes a good sales proposal already.
(If not, we have some amazing content on the topic coming up really soon. In fact, you could sign up at the bottom of this post to receive our updates and never miss that post.)
And you know that ideally, your documents should be short and simple.
A 50-page proposal might look impressive. But will prospects be willing to read it? I wouldn't be so sure.
At the same time, you need to convey all the information to them somehow, and that's where images come in handy.
You see, as it turns out, our brains are wired to process images much faster than text. 60000 times faster, to be precise.
Here's a quick proof (via Uberflip):

See…
But this comes as no surprise, particularly, if you consider that the majority of information our brains register is visual.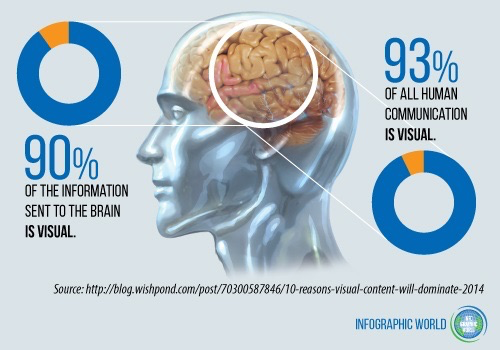 And so, by using images, you can avoid having to explain certain information in the text but use a handy graphic instead.
Images also engage readers more.
This benefit is particularly important if you consider the fact that most users don't read the entire content anymore. Instead, they skim and scan. Simply.
(Interestingly enough, as readers, we exhibit the same behavior when reading web content, and literature.)
By using images, you can stop your lead's wandering eye, and help them focus on a key aspect of the proposal.
And hey, there's plenty of data to prove that too. For example (via Heidi Cohen):
Content with images receives

94% more views

, on average than any copy without visuals.

60% of consumers

are more likely to consider or contact a business whose images appear in local search results.

Press releases receive 14% more pageviews if they include a photograph.
Incredible, huh?
And so, here's how to include stock photos in your sales collateral, even if you feel they look cheesy or even awkward.
#1. Crop the image to display only the most important element that communicates your message
Here's the problem with many stock images – they contain far more than you'd like to include.
Here, let me show you what I mean. Take a look at the photo below. It's a great image to feature a computer. However, the two other elements – the plant and hand holding a cup distract a viewer from the main element.
(source – Pixabay)
But luckily, most of the time, you don't have to include the entire image.
You can quickly crop it to feature only on the most important section – in this case, the laptop.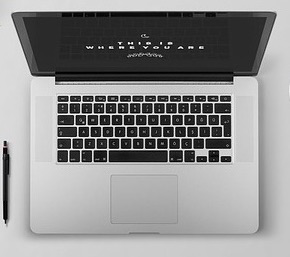 Here's how to crop a stock photo in Powerpoint.
Create a new slide and add your picture to it.

Then, click on Picture Format tab (it will automatically appear once you click on the image).

There, locate the Crop icon, and click it.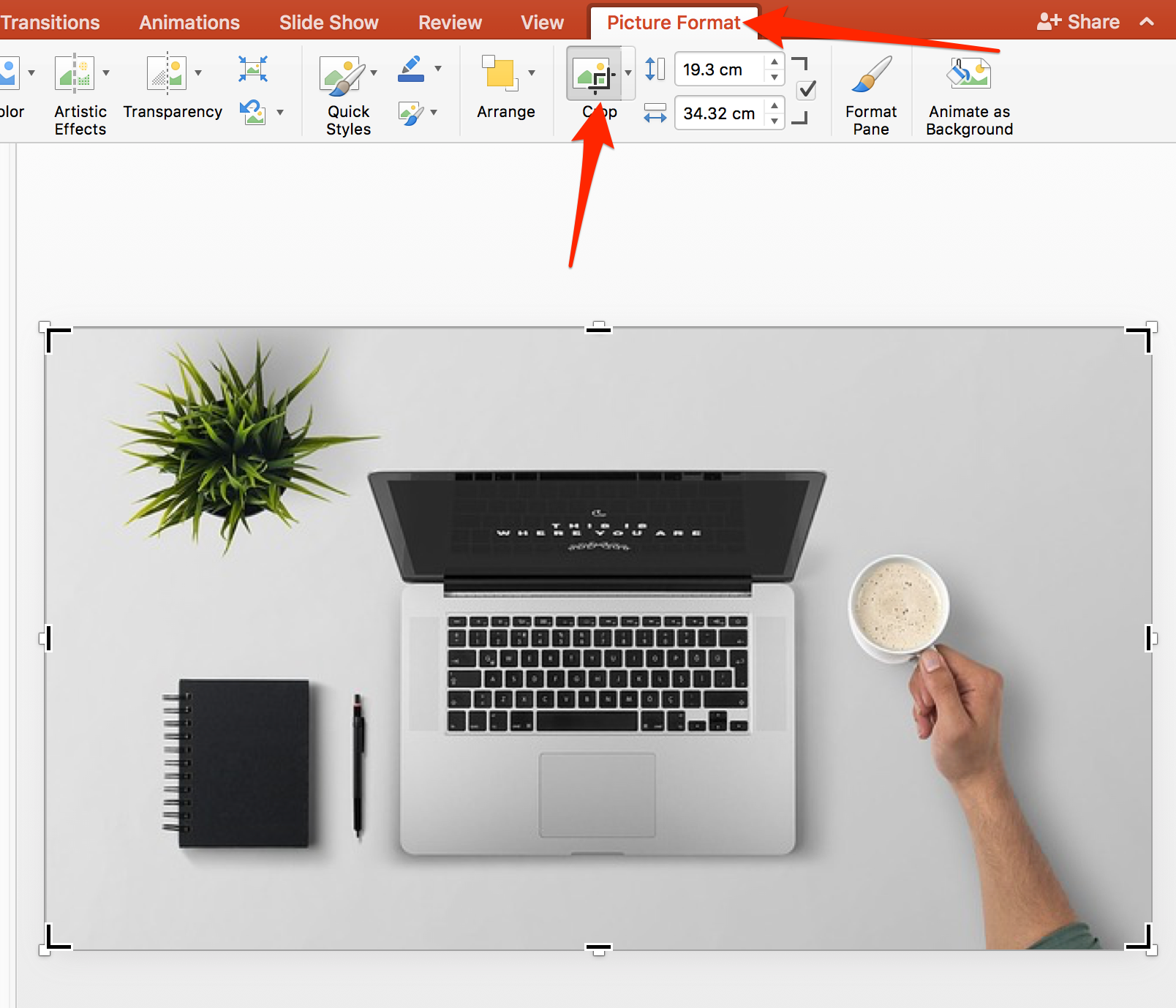 You will notice additional controls in all corners and sides of the image. Dragging them allows you to specify the area of the picture you'd like to keep after cropping.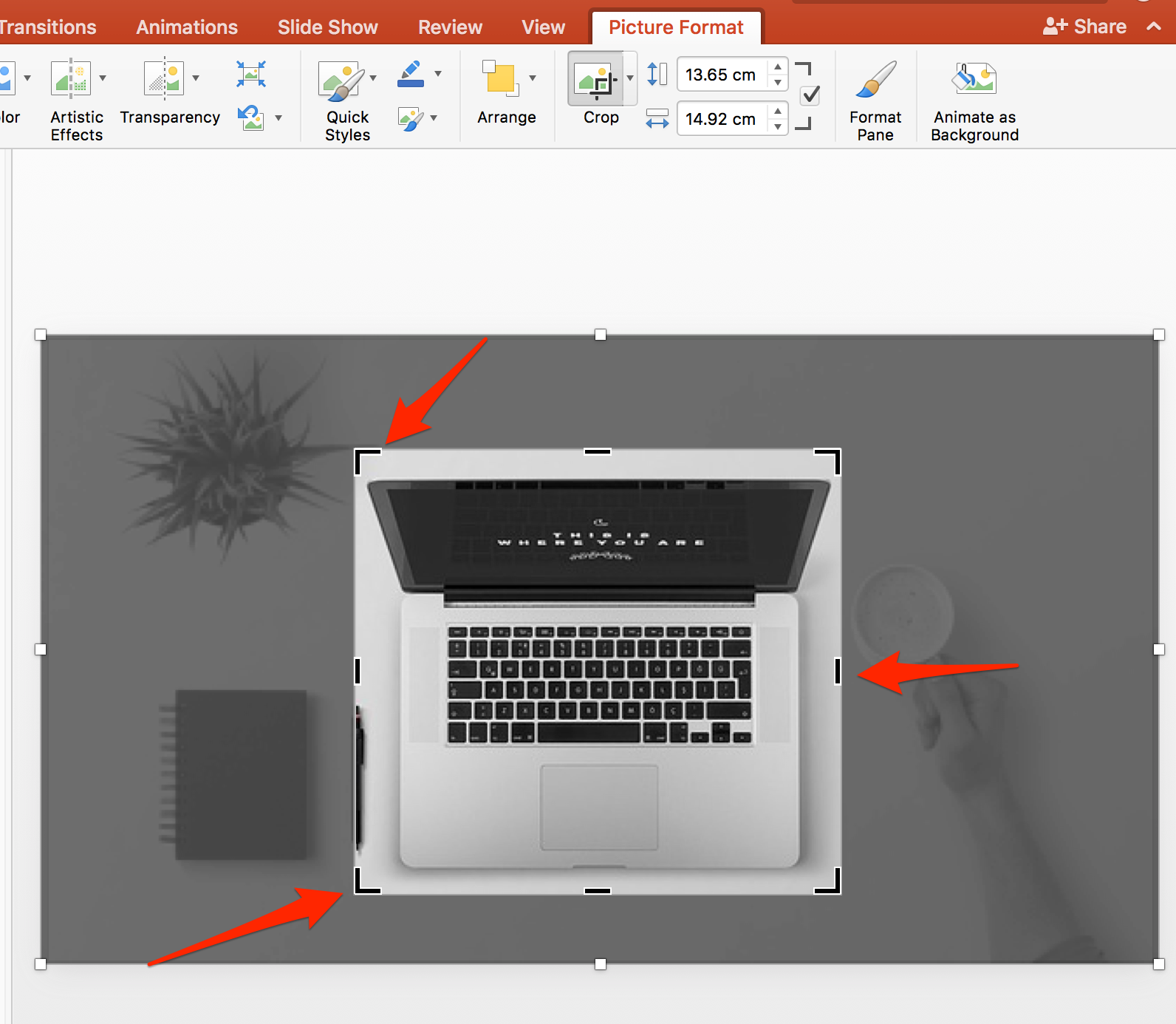 Un-click the Crop tool in the toolbar to save your changes and … done :)
#2. Add test to add context to the image
Sure, pictures like these might be saying a thousand words.
But most likely, the image you're going to use for your sales collateral might not be as striking as those iconic photographs I liked to in the previous paragraph.
In fact, it might seem nothing more but a simple, well…. stock photo. Here, just take a look at this shot: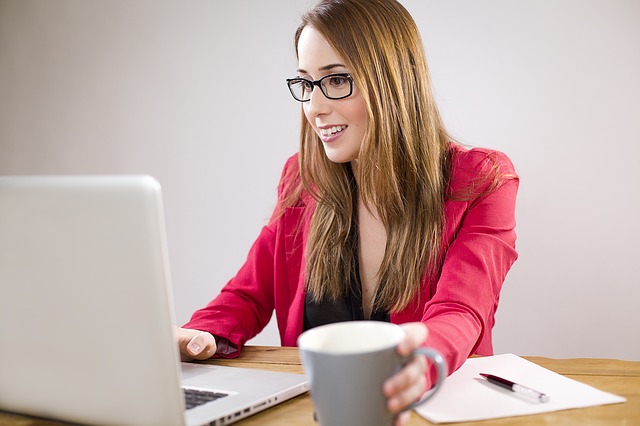 (source – Pixabay)
Luckily, adding just a bit of text can take it from being a generic stock image to a visual that tells a powerful story.
Example:
How to add text to stock photos?
As with the previous example, you can use Powerpoint to overlay your image with text and backgrounds.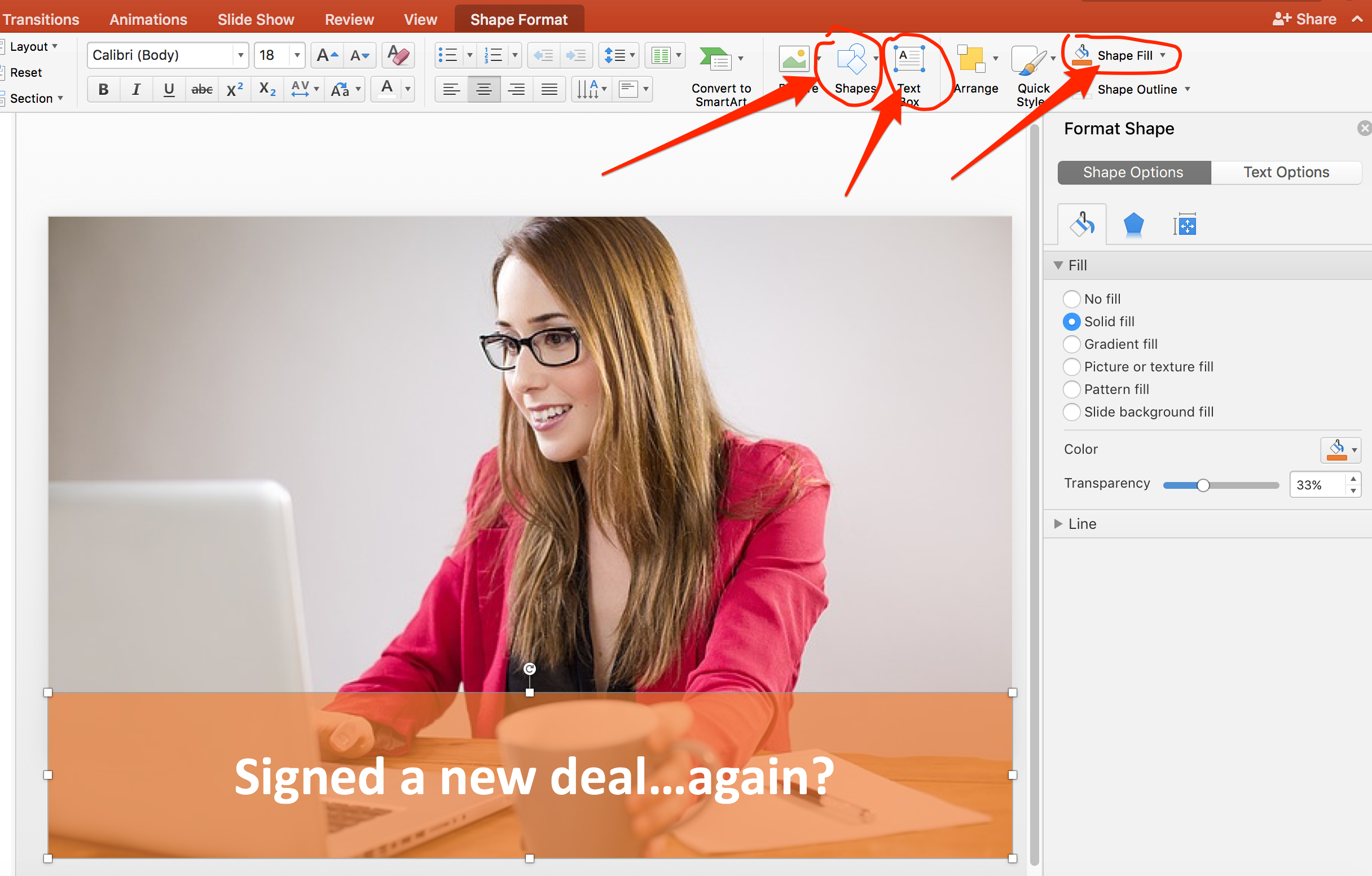 The Shapes tool will allow you to add a background on which you could place some text. It's not required for every image. However, some visuals might have no free space to add text without overlying it on top of other elements. And to make the text visible, you'll need to place solid color shape below it.
You can then change the color of the shape with the Shape Fill tool, and add transparency by clicking on the shape, and reducing the transparency on the "Format Shape" window.
Finally, use Text Box tool to place actual words on the image.
Done :)
#3. Use an Overlay to Convert Visual into a Background for Text
Finally, you can also turn the entire image into a background for the message you'd like to convey with it.
For example: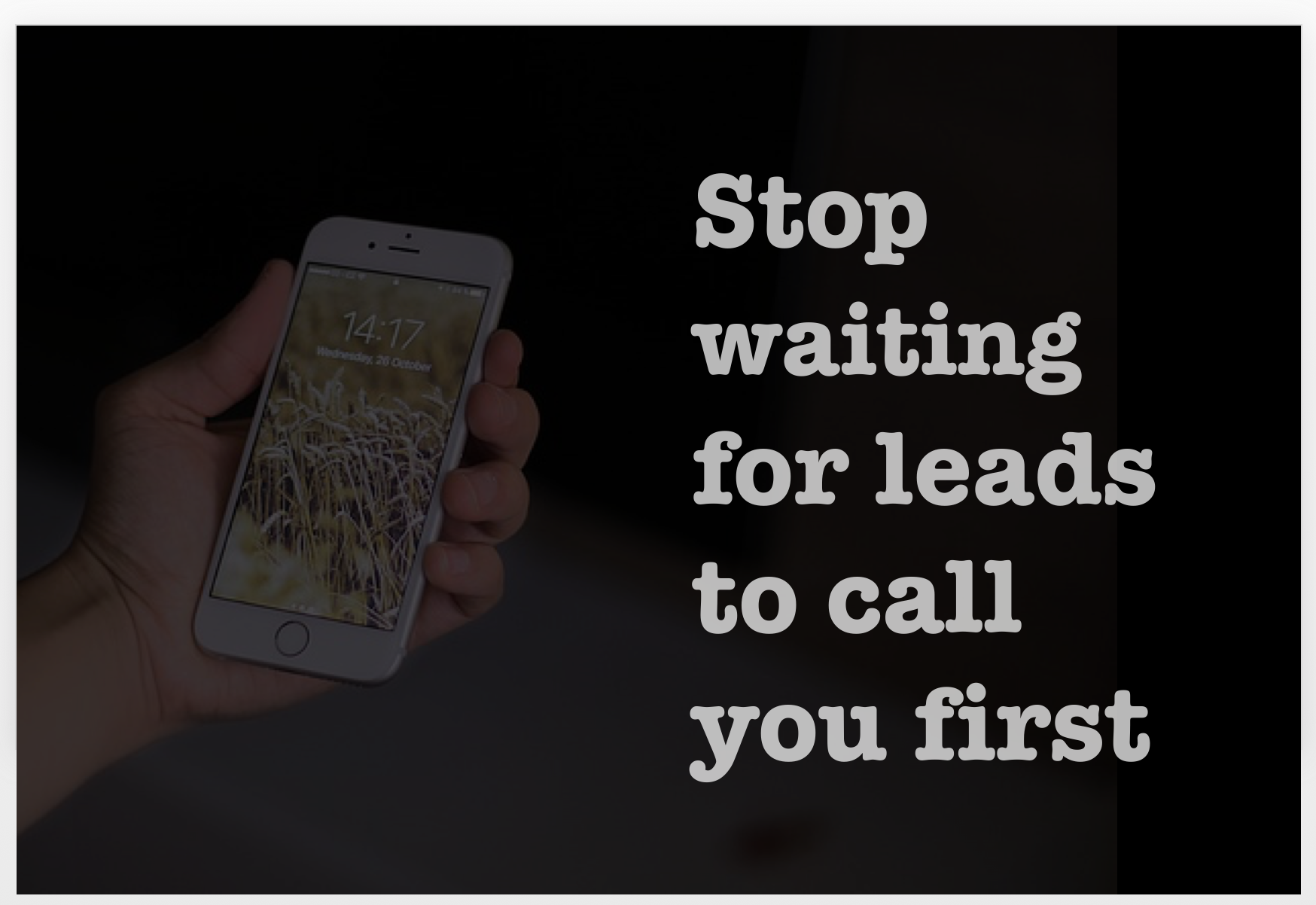 The above visual uses a standard stock photo (here's the link to the full version if you'd like to see it) that I slightly cropped, and then, added a solid color overlay and text.
You can create a similar image in Powerpoint by using the exact same tools we used earlier in this post:
Shape tool to cover the image with a solid color overlay, and add transparency.

Shape Fill tool to select the right overlay color.

Text box to add words to the image.
And that's it…
With these couple of tricks, you should be able to turn awkward stock photos into engaging visuals that will enrich your sales documents, and help you engage your readers more.
BONUS: Wondering where to get stock images from? Check out our favorite 10 website to find the best stock photos on the Internet. Download the list here >>